Svjež zrak, lampice, snijeg i odbrojavanje dana do Božića je ono što čini čaroban Božić. Sve to upotpuni šalica kuhanog vina kad uđete na neko toplo mjesto, to može biti kafić ili restoran, ali ove godine može biti i vaš dom. Naša članica Ivana Zrno otkrila je svoj tajni recept za kuhano vino, a vi mu nećete moći odoljeti.
Recept je nastao kroz suradnju Sofine moments-a i Majstor kuhar akadamije pa je tako recept izradio poznati kuhar Branko Ognjenović.
---
Pročitajte više: Čaj od đumbira kao lijek za sve: Evo zašto ga trebate pripremiti još danas!
---
Kako napraviti najukusnije kuhano vino?
Posljednjih godina kuhano vino postalo je neizostavno piće ili topli napitak svakog doma u vrijeme Božića. No, nemojte se dati zavarati – to je piće u kojem dobra mjera igra ključnu ulogu. Pravite ga polako i kušajte ga (znamo da vam to neće teško pasti) i savršeni recept brzo ćete pronaći.
Sastojci
Crno vino – 750 mL
Voda – 250 mL
Mješavina začina za kuhano vino – 20 g (ako nemate začine možete dodati klinčiće i cimet)
Šećer – po želji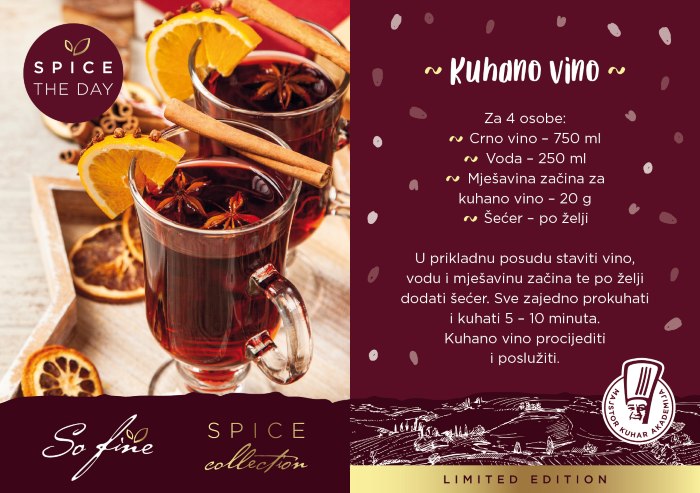 Priprema
U prikladnu posudu staviti crno vino, vodu i mješavinu začina te po želji dodati šećer. Neka se sve to zajedno prokuha, a potom kuha još 5-10 minuta. Kuhano vino procijedite i poslužite. Navedena doza je dovoljna za četiri osobe.
Poslužite vruće i uživajte!
Kako biste upotpunili svoje ukusne napitke, odaberite vina i začine iz ponuda Sofine moments.
---
Pročitajte više: Pričom o najljepšem poklonu osvojite So fine Box full of Surprises
---
Članak pripremljen u suradnji sa Sofine moments.
Foto: Pexels, Privatna arhiva