Proljeće je tu. Debele čarape od minimalno 50 dena nam više nisu potrebne. Sad dolazi vrijeme vrijeme velikih troškova- čarape. Obučete ih jednom, malo zapnete noktom i više nisu za nositi na suknju…ali to je druga priča…..Pitanje je jesu li mrežaste čarape primjerene za ured?
Da li i kako nositi mrežaste čarape u uredu?
Ako mrežaste čarape nosite ispod hlača, to ne bi trebao biti problem. Ali ako ih planirate obući uz suknju, onda morate biti oprezniji. Bez obzira je li dress code u vašem uredu konzervativan ili opušten, opuštenost ne bi smjeli pokazivati noseći neprimjerene mrežaste čarape!
Odaberite što sitniju mrežu
Pravilo broj 1 je da mreža mora biti što sitnija. Mrežaste čarape s širokom mrežom nisu primjerene za ured, prije za izlazak. Ako već želite nositi crne mrežaste čarape, neka to budu one sa najsitnijom mrežom, od milimetar, dva. Mreža će biti vidljiva vjerojatno jedino vama.
Čarapa mora biti tanka jer ako su niti debele, bit će vidljivije i neće izgledati profesionalno.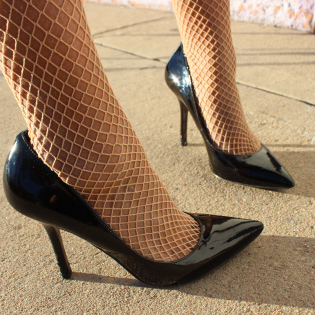 Uskladite čarape sa ostatkom odjeće
Kad nosite mrežaste čarape, sve ostalo na vama mora biti konzervativno i strogo jer ćete u protivnom ostaviti suprotan dojam. Netko udaljen od vas nekoliko metara ne bi trebao niti primijetiti da nosite čarape s mrežom.